Previously, the OpenAI ChatGPT app was not available for download on Android and iOS devices through the Google Play Store and Apple App Store. Users had to access ChatGPT on their mobiles and PCs via the openai chatgpt website: https://chat.openai.com.
Now, iPhone and iPad users can download the official OpenAI ChatGPT app for iOS from the Apple App Store. This allows users to easily experience the capabilities of OpenAI's advanced language model on their Apple devices.
The mobile application offers the same functionalities as the web version. It also synchronizes the search history across devices. This means that users can access their previous search data from the web interface within the mobile app. Additionally, the app allows voice input, enabling users to send voice prompts instead of just typing.
Initially, the app is being rolled out in the US, with plans to expand to other countries in the following weeks.
Users who subscribe to ChatGPT Plus with a monthly fee of $20 will receive extra benefits on the app, including access to the latest language model, GPT-4.
According to the announcement on the OpenAI website, an Android version of the ChatGPT app is expected to be launched soon.
How to Download ChatGPT for iOS (iPhones, iPads)
Open the "App Store" mobile app on your iPhone or iPad
Search for "ChatGPT"
You should see the official app by OpenAI
Tap on the "Get" button to download the app.

Or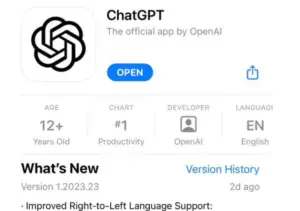 How To Use ChatGPT On IPhone, iPad (ChatGPT is FREE)
After successfully downloading the OpenAI ChatGPT app and following the sign-in process, you can begin using the application as follow.
Once signed in, new users need to create an account by signing up.
To utilize ChatGPT, you just need to enter a question or prompt into the provided text box and then press the "Enter" button. ChatGPT will promptly generate a response based on your input.
You can continue the interaction by typing in further questions or prompts to ChatGPT.